Jewelry
It is no secret that Denise likes really nice jewelry items, but she doesn't like to spend a lot of money on them. She has spent a lot of time finding just the right pieces for her show, and now you can own the exact same necklaces, ear rings and bracelets she wears on stage.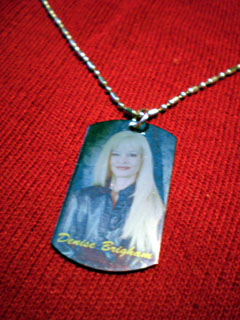 $7.95
Dog Tag Necklace
These stylish dog tag necklaces feature a photo etched picture of Denise and have an adjustable chain to fit any application.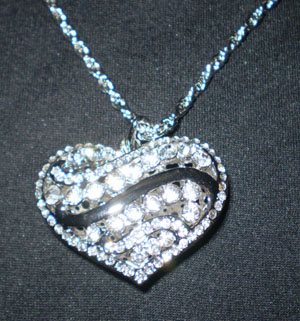 $14.95
Silver Diamond Studded Heart Necklace
This lovely silver heart necklace measures almost 2 inches wide, is covered in large bright rhinestones, and has a fully adjustable pendant.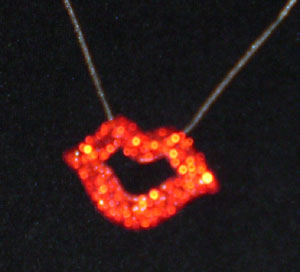 $9.95
Hot Red Rhinestone Lips Necklace
Hot Lips is the right description of this flashy pendant necklace. Covered top to bottom in bright red rhinestones this pair of lips definitely says KISS ME! It measures 1.5 inches across and has an adjustable pendant. ***Currently out of stock - Available late October***
$34.95
Elegant Silver Necklace Set
This one is Denise's favorite, a guaranteed head turner! Covered in clear rhinestones with a subtle gold leaf background on a large modern silver necklace. Matching large earrings and extra links to lengthen it are included.
$19.95
18" Metal "Keys to My Heart" Necklace Set
18" Metal Heart and Key necklace with matching key charm earrings. Each of the three large hearts has a blacked out center, two with key centers and one with a studded five leaf clover. The hearts as well as the three row link chain are all lined with clear rhinestones. A stunning piece that is fully lead compliant.
$31.50
Rhinestone Butterfly and Flower Necklace Set
Sparkling necklace set featuring a gorgeous large four winged butterfly surrounded by five leaf flowers, all fully adorned with bright clear rhinestones. Matching five leaf flower stud earrings.
$12.95
Rhinestone Star Necklace
You'll definitely be a star wearing this glittering rhinestone necklace. The star measures 2 1/2 inches across and is on a fully adjustable shining chain.
$4.95
Oval Rhinestone Cross Necklace
Three dimensional rhinestone cross necklace on a bright chain. Measures 3/4 inch wide, 1 3/4 inches tall, and 3/4 inch deep.
$12.95
Large Metal Cross Necklace Set
Beautiful metal cross with matching earrings. The dual layer cross measures 2 inches wide and 2 3/4 inches tall. It has a black center surrounded by bright rhinestones and hangs on a thick black plastic rope.
$12.95
Large Crystal Flower Ring
Gorgeous crystal flower that measures a whopping 2 1/4 inches in diameter. It features two tiers of five petals and each is encrusted with white, gold and bronze rhinestones. A flexible expandable metal strap makes is a one-size fits all.
$14.95
Gold crystal bracelet
Beautiful gold expandable bracelet that features five rows of same color rhinestone crystals.
$49.95
Gold stretch cubic zirconia bracelet
16 panel gold colored bracelet with dark copper cubic zirconia stones set in rodium metal. 1/2 inch wide expandable.