Music
Denise's music is available here for purchase on CD's. If you prefer digital downloads please visit the main website for links to iTunes, Amazon and other sites where you can download albums or individual songs.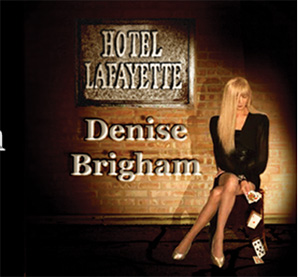 $14.95
HOTEL LAFAYETTE CD Album
A 70 piece orchestra - 11 classic songs - one fabulous voice!
It has been called the greatest Pops Standards album of the last half century! It was chosen by professional broadcasters as one of the top five Standards albums of 2009, and it topped the national Adult Standards radio airplay charts in July of 2009. Produced, arranged and orchestrated by Carey Deadman, it features a 70 piece all professional orchestra conducted by Colin Welford, the national music director for Disney's "The Lion King", and it was recorded at the multimillion dollar Chicago Recording Company. It was engineered and mastered by Chris Steinmetz, famous for his work with Clive Davis and Phil Ramone. This is truly a modern masterpiece of Adult Standards music!
SPECIAL HOLIDAY OFFER: Since HOTEL LAFAYETTE makes a great holiday gift we will extend a 25% discount on all orders of 3 or more when bought at the same time!
$2.50
The Jazz Session
This is a two song CD sampler from Denise's first session at the famous Chicago Recording Company featuring the songs "In The Wee Small Hours of The Morning" and "Fly Me To The Moon", both done in a jazz quartet format. While this CD was intended as a promotional piece to be sent to radio stations and entertainment media we have a limited number that we can make available to the public. Appearing on the CD is Jeremy Kahn on piano, Eric Schneider on sax, Nick Schneider on Bass, and Chuck Christianson on drums. Carey Deadman was the producer/arranger and the head engineer was Chris Steinmetz.